On Saturday, Tonga's volcano erupted, causing a major eruption and a tsunami that devastated parts of the city of Nuku'alofa.
A surge wave of 2.7 feet (83 centimeters) was measured in Nuku'alofa, the US-based Pacific Tsunami Warning Center reported. There is no information yet on property damage or losses.
On Tonga, a massive wave breached the beach and surged into town, according to images circulated on social media.
The Pacific Tsunami Warning Center said tsunami waves of 2 feet in height were sighted by sea-level gauges in Pago Pago, the US territory's capital, around 940 kilometers (580 miles) from Tonga.
RELATED: Jean Ramirez DEAD By Suicide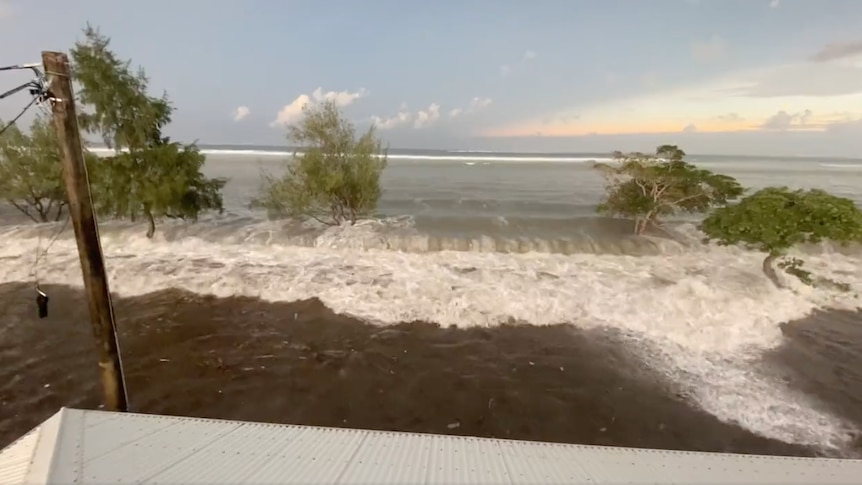 Officials issued a tsunami warning, telling residents to "immediately" flee to higher ground. The warning was withdrawn shortly thereafter.
The Pacific nation of Fiji has ordered people to leave the coast "due to powerful currents and dangerous waves," according to its authorities. The country has also issued a tsunami warning, instructing residents to avoid beaches "due to strong currents and deadly waves."
#Tonga 🇹🇴🌋

Entre vapor de agua, rayos y flujos piroclásticos, esta fue la pesadilla que se vivió en las cercanías del volcán #HungaTongaHungaHaapai después de su gigantesca erupción de ayer. pic.twitter.com/fvRuOYM1YY

— Alejandro S. Méndez ⚒️ (@asalmendez) January 14, 2022
A tsunami warning has been issued for New Zealand, over 2,000 kilometers from the volcano's location.
Parts of New Zealand may experience "strong and unusual currents and unpredictable surges at the beach," according to the country's National Emergency Management Agency.
Undersea volcano erupts
Satellite image of the Volcano Eruption in Tonga 🇹🇴. pic.twitter.com/9fuMZXgdme

— Jese Tuisinu (@JTuisinu) January 15, 2022
This is the latest in a chain of eruptions from the Hunga Tonga and Hunga Ha'apai volcanoes under the sea. The volcano erupted Saturday for the second time in two days.
On Friday, a previous eruption sent plumes of ash and smoke into the air, with smoke clouds rising up to 12 kilometers (7 miles) into the sky.
The volcano had been erupting on and off since December of last year. On Friday, officials advised residents to stay home and protect drinking water and resources.
---
To get more related content related to Entertainment, Technology, Windows Fixes, Do Follow Tremblzer. On Google News